NOTE: Would you love to be part of my series: CONFESSIONS OF ANOTHER FASHIONISTA? If you are interested in sharing with us your style, fashion or lifestyle as a woman in midlife, I would love to interview you! This can be as a written interview, or, Podcast (which is a blast I assure you!). Please email me, comment, or send me a DM on Insta for details (so many places to reach me!). Thank you so much in advance!
Happy Friday Lovies! Time for some looks, challenges, vintage and another gorgeous weekend ahead!
Monday started with a Thrifty Six collab- this happens every 3rd Monday of the month- and I love it!
You can check out all our looks HERE
Tuesday was low-key, but Wednesday it was a dress theme for Wear It Wednesday on Instagram. I wore this fabulous vintage one I got from La Retro Girl- she seriously has some mean pieces! And- once again, this is Not a two-piece it's a dress!
Finally…Could I really end the week without showing you the last (but not least) of my fabulous chiffon dusters?! Didn't think so! How precious is this baby blue babe? And that concludes my looks for the week!
I also shared a doggy food recipe I make for my Charlie, up on Instagram. If you're interested in making your pup's meals mre tasty, I highly recommend you add this delicious recipe to his kibble:
I basically fry some minced meat (veal, pork, beef), and some chicken livers in one pan. In another I boil carrots, celery, bell peppers, cauliflower, broccoli, sweet potatoes and also some Arborio rice. I mash it all together and then store it in a tupperware in the fridge. I make enough for one week. What I do is add one big scoop to his kibble and mix it up together. Charlie loves it!
What have you been styling up this week (or cooking!)?
Time for my FAVOURITE FASHION DIVA from last week's Linkup Party!!
How gorgeous does she look in this adorable pink gingham dress??! I'm in love with this look for the summer!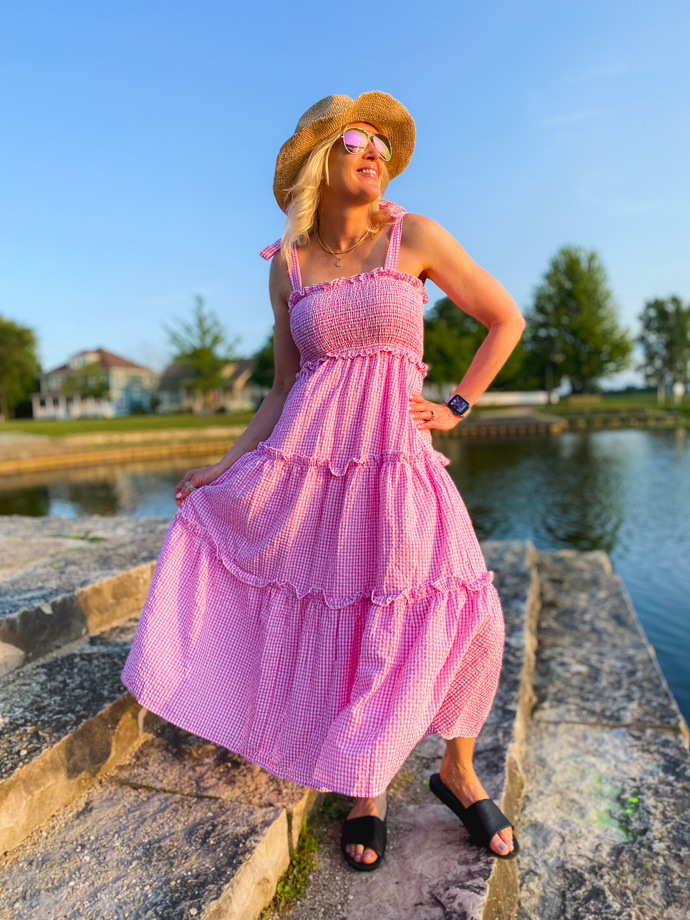 My FAVOURITE READ from last week's Linkup Party:
Mireille of Chez Mireille Fashion Travel Mom
Loved reading about this travel post and all her outfits- but what I loved most was reading about her and Jodie of Jtouchofstyle meeting up at the airport! I just love reading about blogger meetups! I'm in Canada, and I find it so hard to get to meet some of my blogger friends in person because of the distance. I almost envy all my US friends who get to do this on the regular. So if anyone ever decides to do a blogger meetup- please let me know and I hope to come along too:)
And now!! It's time for FABULOUS FRIDAY'S LINKUP PARTY!!!
You are invited to the Inlinkz link party!
Have a great weekend!!
(Can't wait to talk to you next week…it's gonna be my BDay! xxx)