Back to some fashion styling this week and more looks as we are in full autumn swing here in Montreal. Weather has been gradually dipping and garment layering has been on the rise!
Here's what I've been styling up:
Work had me filling in for an information event at the exhibition hall in our Montreal Olympic Stadium. Spent the day in a mask, but I just adored this 70's vest…so had to show you!
I enjoyed wearing the vest so much that I dug out another oldie but goodie! This one honestly gives me all those retro vibes I could drown in.
And then it was back to lively colors, but still with jeans:
I also put together this fun 15sec reel- It's the music for me. I love how it goes with the suit looks lol! It's not playing with the music- Insta is like that:(. Just sing along in your mind to 9-5 by Dolly Parton!
And so another month has almost flown by…I couldn't let Breast Cancer Awareness Month pass me by without making a stop and doing my part for my favourite cause . Here in Canada we have a lovely lingerie chain of boutiques: La Vie en Rose. During the month of October for every bra of yours that you drop off and donate at the boutique, La Vie en Rose will donate 1$ to the cause. But that's not all! If you purchase their campaign tee-shirt ($14.95 – no tax!), they will give 10$ to various Breast Cancer organizations!
So off I went- oh… and here's my look of that day:
Once arrived, I dropped off my bras and bought the tee-shirt! So happy to contribute even if in such a small way.
Lastly, I managed to write a couple of book reviews on some fashion topics I particularly love: history and textiles. If you'd like to read the reviews, Please Click Here
NOW…I may have skipped a week of blogging as I was super busy with my daughter and grandson spending the week with us- but here I am with my Fashion Favourites from the last Linkup! (did you think I'd forget?!)
MY FAVOURITE FASHION DIVA: Gail of Is This Mutton, because I'm mad about that skirt, tights, booties, top- OMG this whole look!
FAVOURITE FASHION READ: Debbie of Your Styled Story! You gotta hop on over and read her post- it's so helpful!!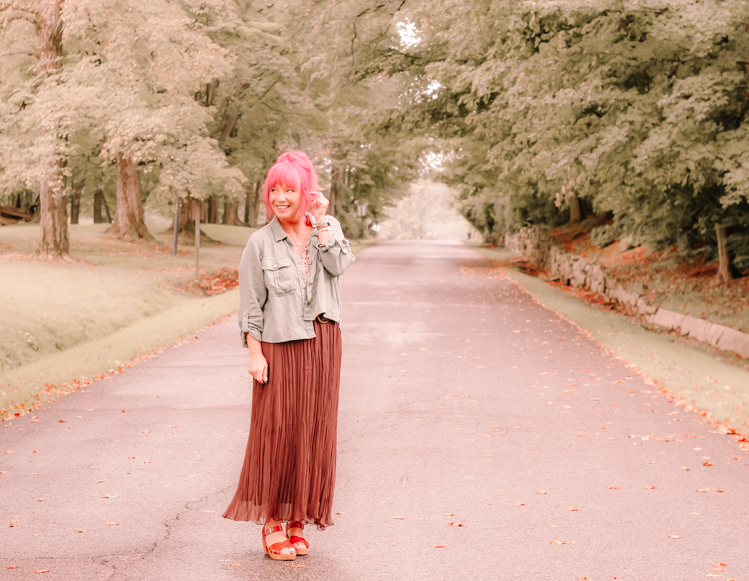 It's now time for the PARTY~!!!!
You are invited to the Inlinkz link party!
C L I C K H E R E T O E N T E R
Have a great weekend my Lovies! Bisous!